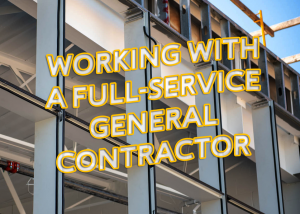 The size of commercial construction build can present many complex challenges for business leaders and project owners who are unfamiliar with the construction process. With so many tasks to complete and people to coordinate, it often helps to hire a commercial general contractor.
Many business owners choose to work with full-service commercial construction contractors who specialize in all of the different and essential aspects of a building project. But what is a full-service construction company exactly? Quite simply, it is a construction company that can handle your project from start to finish.
What are some of the essential aspects of a project full-service construction companies can help with?
Construction Management: Overall management through all phases of a project. This includes needs assessment, cash flow projection, scheduling, estimating, value engineering, permit process management, bid document preparation, bid review/recommendation, subcontractor coordination, etc.
Pre-construction services: Cash-flow analysis, logistics planning, cost estimating, subcontractor pre-qualification and selection, land acquisition assistance, needs assessment, feasibility studies, scoping, budgeting, and master planning.
Architectural Design: Preliminary estimating, project financing, budgeting, environmental studies, zoning and compliance review, schematic design, design development, and construction documents.
Thanks to their ability to complete every aspect of a project, full-service commercial general contractors can help you save time, money, and resources. Here are some of the benefits you can look forward to when working with a full-service general contractor.
Cost Savings. This is one that business owners love to hear! A construction project can be expensive. Having all your needs met under one roof can save you money. A single point of contact means fewer phone calls and less time spent coordinating multiple vendors.
Saving costs can go further than just keeping a project on schedule. From the initial stages of a project, a plan for the entire project is presented so that you can decide the best areas to spend your money. A well thought out plan developed at the beginning of a project can help your project progress efficiently and help you find cost savings along the way.
Time Savings. One of the most apparent benefits of working with a full-service general contractor is the big picture outlook on a project. When everyone working on the project is familiar with each other, potential issues that can cost you considerable amounts of time (and money) can be caught early.
Additionally, there are many moving parts in commercial construction projects, and keeping them all straight is a full-time job in itself. Relying on a construction partner that can manage every aspect eliminates the inefficiencies and delays of dealing with multiple companies.
Greater Accountability. Since all parties are part of one team and work is controlled by the construction manager, they can keep a closer look at the work being performed. Since your construction manager has forged strong relationships with their subcontractors, there is also less chance that could create issues during a build.
If an issue needs to be resolved, the construction company needs to find a way to resolve any issues to keep the project moving.
Flexibility. As a project progresses, it's not unusual for a project owner to want to make some changes. When this arises that is where working with a full-service construction management team truly makes a difference. Using their years of experience, they can try to identify any potential changes early in the process when it will have much less of an impact on the construction schedule and budget.
As you can probably imagine, the further along in the process those changes are made, the more expensive and disruptive they will be. That is why working with a full-service general contractor can be such a boon for business leaders. If changes need to be made, the entire team is there to address them much more quickly than if you were trying to coordinate the needed changes among multiple parties.
Better Communication. Having everything regarding your project handled from one place drastically reduces the chance for miscommunication and oversights while also providing streamlined communication with business leaders regarding important updates and milestones of the project.
When taking all of these factors into consideration, it is clear that these benefits can save lots of stress on a business leader/project owner, which has value all its own. When things run smoothly the building process actually can be an exciting and enjoyable experience for everyone involved from start to finish.
Contact the team at Resetartis Construction today. We will be happy to walk you through your unique project needs to ensure that your project and business are set up to succeed!