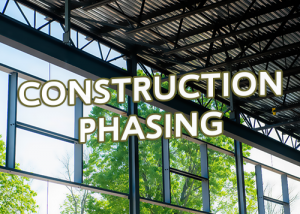 Every business goes through it. After many years of success, you find that you need to renovate your showroom, extend your warehouse, or even expand your office space to meet the future needs of your business and customer demand.
Oftentimes these kinds of projects are large in scale and take months to complete.
So the question arises. How can you renovate or expand while also keeping your business open and making money?
The answer is Construction Phasing.
Construction Phasing is the process of planning and prioritizing the phases of construction to meet goals, reduce costs and maintain the ability to generate revenue by sequentially completing construction as opposed to a traditional linear build. It is often the secret weapon for business leaders taking on expansion or renovation projects as it allows for the business to continue to operate and generate revenue during construction.
Which types of businesses usually benefit from Phased Construction builds?
The general rule of thumb is that construction phasing is a great option for any business that needs to stay open to continue generating revenue while also expanding/enhancing their business. We have worked on many projects like these over the years, like the showroom renovation over at West Herr Subaru, or the delicate task of expanding Roswell Park Cancer Institute while keeping strict standards of cleanliness for the hospital and its patients in mind.
Here are a few types of builds that generally benefit from Phased Construction builds:
Hospitals/Medical Facilities: Many times, it is just not possible, or in the best interest of the community, to shut down a hospital for renovations and additions. When working in hospitals and medical facilities cleanliness and thoughtfulness are of utmost importance. Your General Contractor/Construction Manager should work hand-in-hand with hospital staff to determine the most efficient way to phase construction to reduce any disruption to the hospital and its personnel.  Unless it is a new build, using construction phasing is almost a guarantee for hospital renovations and additions.
Warehouses: Your business is growing and you need more warehouse space. That's great!  How can you keep your business running while also expanding? Construction Phasing is the answer. Working together with your General Contractor/Construction Manager you can formulate a plan that will reduce any impact on your customers, shipping, and receiving, and still allow you to continue to grow.
Manufacturing Facilities: As you probably know, manufacturing centers need to manufacture to make money!  Any downtime only leads to lost production and maybe even upset customers from unexpected delays. In cases like these, some manufacturing facilities may need to move equipment to a temporary location while work is being done, or even have first or second shift workers adapt their schedules to allow for construction to continue. Whatever it is, the most important aspect is to work with a general contractor who understands these challenges and works with you to minimize all disruptions to get you back up to full capacity as soon as possible.
Schools/Universities: Typically, construction work on educational facilities is done over the summer when classrooms and campuses are generally empty. But sometimes projects are too large to get done over just a couple of months. Instances like renovating classrooms on a multistory building or building an addition need proper planning. A perfect example of construction phasing in a school setting would be renovating one floor at a time in a multistory school. Once the first floor is completed, they move on to the second.
Could construction phasing be right for your business's next project? We would be happy to take a look and see what would work best for you!